Mitsubishi Philippines seems to love its color black vehicles as the Japanese automaker had a string of releases for its new Black Series lineup of cars. Included in this new lineup is the Mitsubishi Strada Athlete, which brings to the table a new Jet Black Mica color which we have in this review along with other blacked-out trim along with a blacked-out front bumper and rear spoiler as well. It also gets exclusive decals to let people know what you have along with other features such as black side mirror turn lamps, a black styling bar, and special 18-inch alloy wheels.
This now begs the question. Is the Mitsubishi Strada Athlete Black Series better in black or are the normal models more than enough to catch your eye?
2022 Mitsubishi Strada Athlete 4x2 AT Black Series Review
Performance
Engine Output (HP), Acceleration, Transmission, Handling 4.0/5
Design
Exterior & Interior Design, Quality, Fit and Finish, Ergonomics 4.0/5
Ride Comfort
Cabin Comfort, Suspension, NVH Insulation 3.5/5
Safety and Technology
Convenience Technologies, Active and Passive Safety Features 3.5/5
Value for Money
Amount of the vehicle you get for the price, Fuel Efficiency 4.0/5
What You Will Like
Fuel efficient engine
Menacing all-black look
A bright interior thanks to the orange leather seats
What You Won't Like
A bit of a bouncy ride
No Apple CarPlay and Android Auto
Could use more safety features for this variant
How We Do Our Reviews
Exterior
The Mitsubishi Strada Athlete 4x2 AT Black Series is still a standard Strada at its heart. By this, we mean that it still comes with the brand's second generation of dynamic shield design and comes with a set of LED headlights and daytime running lights as well. It does also come with halogen foglights but they're more than enough to light your path when the fog rolls in. While its design remains largely, what you pay for with the Black Series are the blacked-out accents. They give the pickup truck a more menacing look and feel to it.
Moving on to the side of the Strada Athlete Black Series and nothing much changes from the standard Athlete variant aside from the decals that are present in this model. We aren't quite sure if the "Strada Athlete Black Series" decals come with the car as standard but without it, the car still looks good. Just like the normal Athlete, you do get a sports bar at the back and a tailgate-mounted mini spoiler at the rear. The 18-inch wheels are also blacked-out to keep in the theme of the Black Series. Overall, it's a more menacing take on the regular Strada that works well. It doesn't make it completely stand out from the rest of the competition but it does give it a unique look.
Interior
The interior of the Mitsubishi Strada Athlete Black Series is still pretty much the same as the normal Athlete version. You still get the same dashboard as the previous version and the same orange leather seats, so, it can feel a bit dated. These seats are comfortable and aren't taxing on long drives. USB ports are plentiful even at the rear so you have great charging options. Just take note that the USB port at the front isn't as fast as the ones at the rear so don't be surprised if your phone doesn't charge quickly when plugged at the front.
Aside from this, there are still plenty of soft-touch materials available especially in high-touch areas. Space is still great inside and there is room for 5 regularly sized Filipino adults, put anyone taller and well it's a bit of a squeeze.
The sound system in the Strada is also decent, however, it does lack a bit of depth in the higher tone registries and you can tell that the head unit is limiting what the speakers can do electronically to help preserve them for longer use. It's a good sound system for the regular users out there but for audiophiles out there the system itself will need a bit more tuning.
Comfort
One thing you have to remember when driving or riding in the Mitsubishi Strada Athlete Black Series is that it is still a pickup truck. So, don't expect the comfort levels of a sedan or crossover. That being said, the ride inside the Strada is a bit on the bouncy side compared to the rest of its pickup truck rivals. While the suspension does do its job of absorbing bumps some of them make their way into the cabin.
As far as the seats are concerned, the seats are comfortable and the support of the padding is quite good. It holds you in place, in the heat of the sun especially when you park the car outside, these can get a bit hot, however, the air conditioning does its job well to quickly cool everything off. Overall the Mitsubishi Strada Athlete delivers on what you would expect from a pickup truck, it's rugged and a bit bouncy but otherwise tame when you want it to be.
Technology
The technology at least in terms of the infotainment system inside the Mitsubishi Strada Athlete is a bit dated. It does not come with Apple CarPlay or Android Auto but does utilize a third-party application to screen mirror your phone to the 8-inch infotainment system. While the screen mirroring application works well it does take a bit away from your privacy as everyone else in the car can see what you are doing with your phone.
Aside from this, the Mitsubishi Strada does come with power seats for the driver and a reverse camera to help with maneuverability. These are all very much welcomed additions to the pickup truck and help still keep it competitive against its much newer and more up-to-date rivals.
Safety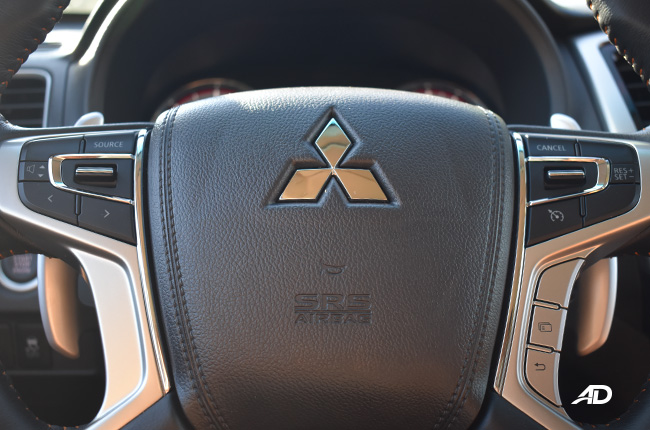 In terms of safety, the Mitsubishi Strada Athlete 4x2 does come with a lot to offer. It comes with the Mitsubishi Active Stability and Traction control program, hill start assists, ABS with EBD, Trailer Stability assist, a good selection of front and side airbags, and a reverse camera. As this is the 4x2 version, it doesn't get access yet to the fancier tech that is available in the 4x4 model.
Driving and handling
Despite its stiffer suspension, the Mitsubishi Strada Athlete does handle on and off-road duties well. While its suspension is better suited for the rougher terrain as it pushes the wheels to be on the ground at all times, its on-road behavior is a little bit on the bouncy side.
NVH in the vehicle is about average as you can begin to hear the rear sports bar start to wiggle at higher speeds. Wind noise comes in at a fairly decent speed of around 80km/h and isn't too loud until speeds higher than the highway speed limit.
In terms of handling the Strada Athlete, Black Series is decent, the rebound is quick but the dampening of the suspension could be tuned a little bit better. However, we suspect that its current setup was meant to strike a fine balance between comfort and cargo hauling. The transmission works well to give you power when you need it and the engine is always ready to give you power when you want it. The gearbox delivers quick and smooth shifts as well as smooth acceleration. Overall it's a decent truck and handles as you would expect from a pickup truck.
Fuel economy
Powering the Mitsubishi Strada Athlete Black Series is a 2.4-liter turbo diesel engine. This is mated to a 6-speed automatic transmission and delivers 179 hp and 430 Nm of torque. With great power does come great response as you don't need to push the engine too much to get the acceleration you want from it. With our testing, we were able to get 8km/L in the city and 19.8km/L on the highway which is decent figures especially as its competition can sometimes have lower figures. Overall, the Mitsubishi Strada is a frugal enough pickup truck that can also be a lifestyle vehicle thanks to its blacked-out and stealth-like looks.
Verdict and price
The Mitsubishi Strada Athlete in its normal form faces some stiff competition from the likes of its Japanese rivals the Nissan Navara, Toyota Hilux, Mazda BT-50, Isuzu D-MAX, and even the Ford Ranger. Its rivals pack more tech and some even come with more power under the hood. While this version of the Strada is priced sensibly at P1,487,000 it comes with a few disadvantages namely its ride and the tech that it comes with. It becomes a hard sell for those who do want the latest technology available, however, for those who want something a little bit more simple and just works without all the fancy wizardry then this is where the Strada shines.
The Strada while a bit long in the tooth still answers the market segment that doesn't want to be overwhelmed but all the new advanced technology. It shines best in this regard as it presents itself as a rough and tough pickup truck that you can depend on as your daily driver and as a workhorse. This holds especially with this, the Black Series version that gives the vehicle a more menacing look thanks to its all-blacked-out theme.
As a final note, the Mitsubishi Strada Athlete 4x2 AT Black Series is a vehicle worth getting if simple is what you are looking for. It ticks all the right boxes for being a good daily driver that can also be a great workhorse truck and comes with the menacing blacked-out look as well. If you want to learn more about the Strada Athlete Black Series do visit our website so you can be updated with the latest promos and deals available for the pickup truck and the rest of the models available with Mitsubishi Philippines.
Exterior Photo Gallery
Interior Photo Gallery
---
---
Get the best deal - Choose multiple dealerships to compare offers!
You can compare quotations simultaneously from multiple Mitsubishi dealerships. Select your preferred dealers from the list below.

Compare quotations from multiple dealerships in minutes.
Check vehicle and color availability.
Find info on special offers and promotions.
100% Hassle-free with no obligation to purchase.
Latest Review
It's Nissan's entry into the hybrid segment but with a twist that helps separate it from the rest of its competitors.

4.3

/

5

The Mazda CX-5 2.5 AWD Turbo is the newest variant in the model lineup, but does it have what it takes to impress? Find out with our review of the crossover.

4.4

/

5

The Changan CS55 Plus promises to be another game-changing crossover for the brand in the Philippines, but does it deliver?
View More Articles