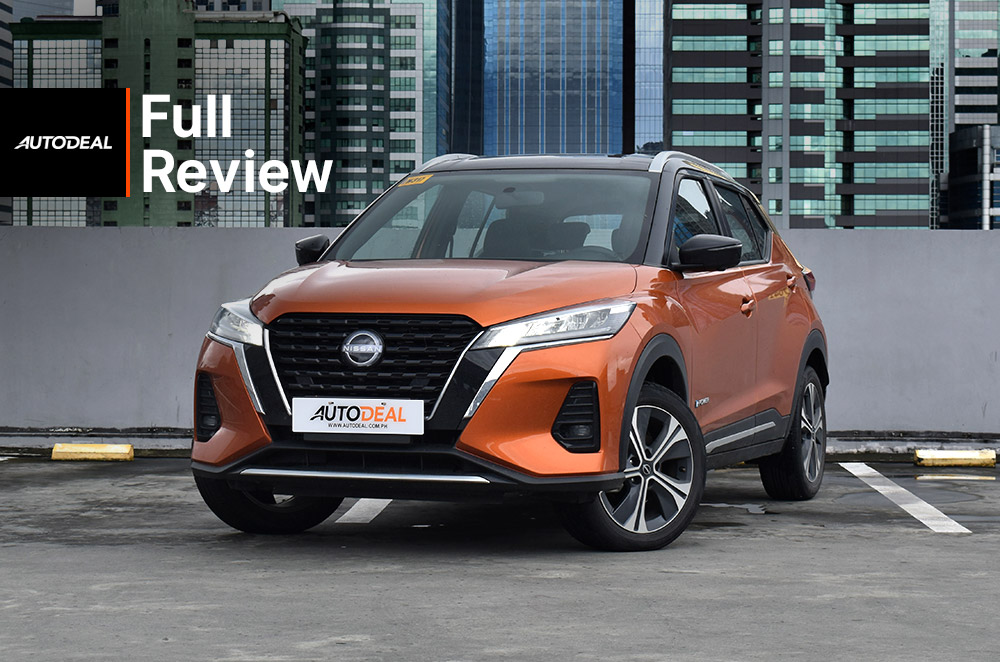 Electrification is gaining speed in the Philippines. This can be seen in the sudden influx of both electric and hybrid vehicles. Nissan Philippines has recently brought in the Nissan Kicks e-Power, a different approach to electrification. It's the brand's latest crossover that combines both the perks of a hybrid vehicle with a pure electric motor drive. It's the only car n the segment with this kind of powertrain, which still involves a 1.2-liter gasoline engine so you don't have to worry about range anxiety.
With that said, we take a look at the Nissan Kicks VL e-Power its top-of-the-line model to see what it has to offer and how it sets itself apart from the rest of the competitors along with how it can revolutionize the crossover segment.
2023 Nissan Kicks VL e-Power AT Review
Performance
Engine Output (HP), Acceleration, Transmission, Handling 4.5/5
Design
Exterior & Interior Design, Quality, Fit and Finish, Ergonomics 4.0/5
Ride Comfort
Cabin Comfort, Suspension, NVH Insulation 4.0/5
Safety and Technology
Convenience Technologies, Active and Passive Safety Features 4.5/5
Value for Money
Amount of the vehicle you get for the price, Fuel Efficiency 4.5/5
What You Will Like
Fuel efficient drivetrain
EV mode
Great technology
What You Won't Like
Tight rear passenger space
No spare tire
Limited EV only range
How We Do Our Reviews
Exterior
The Nissan Kicks carries the brand's signature design language. This means that you will see a lot of V-motion-related design cues throughout the electrified crossover. This begins with its broad front fascia which you guessed comes with a V-motion grill design that is flanked on either side by sleek LED headlights. The grille also comes with a shiny black accent that is found in all models. Aside from the LED headlights the Kicks also comes with LED fog and special V-motion-inspired taillights as well.
Moving on to the side of the crossover and it receives a black roofline along with black body cladding that extends from the front of the vehicle to the back with a silver accident on the lower third part of the vehicle. It also sports 17-inch alloy wheels which are standard for the entire model lineup of the Kicks.
At the back, the Kicks receives a bit of traditional styling similar to what you would find on the older X-trail model. It has a rounder rear with LED taillights and black accents on the lower bumper. It also comes with a rear diffuser that is colored-matched to the body of the vehicle.
Overall the Nissan Kicks presents its design as a great mix between modern and futuristic. It also showcases what Nissan can do with its current design language making for an overall sleek-looking crossover.
Interior
The interior of the Nissan Kicks is similar to that of its fully EV counterpart, the Nissan LEAF. It comes with a minimalist cabin that has subtle leather accents inside with a bit of contrast stitching. It does not come with power seats, but these are Nissan's zero gravity units so expect them to be comfortable. Aside from this the Kicks also comes with a long center console that has shiny black plastic on it. While this does help give the vehicle a more premium feel expect to see this interior piece get scratched up as you use it over time.
As for its features, the Kicks comes with an 8-inch infotainment system, automatic climate controls, and multiple charging points inside the cabin. There is a USB Type-C and Type-A slots available along with a 12-volt socket for your charging needs.
Overall it's a great interior for what the Kicks offer at its price point. It's premium with soft-touch materials being plentiful. The shiny black plastics are the only downside to the cabin of the electric crossover. Yes, they look good but can easily get smudged or scratched over time.
Comfort
The Nissan Kick delivers a comfortable ride. The suspension does well to keep bumps at bay without too much of the force being translated to the body. The Nissan zero gravity seats are great, but if you do end up sitting on one of the ridges of the leather seats it can get a bit uncomfortable. You will need to adjust your posture accordingly so you don't end up on the ridge. That being said, the Kicks also does not come with power seats which we think is understandable considering the other technology that the vehicle offers. You can get into the correct seating position fairly easily with the steering wheel also being adjustable.
Noise, harshness, and vibration are also good as the car is practically silent when the electric motor is doing its thing and the gasoline generator is off. You will hear a slight electric hum but that's for safety reasons so that people outside can hear you coming. One thing we do have to note is that on the highway the hum of the gasoline generator will make itself known but it isn't something that will annoy or distract you while driving.
The Nissan Kicks is a great and comfortable vehicle especially when it is in electric mode, the silence is almost deafening but in a good way as it opens you open to new levels of auditory comfort. It also helps that the sound system is also great in terms of tonality with a wide range of sound being able to be pumped out through the speakers.
Technology
When it comes to the technology that the Nissan Kicks carries it begins with the 8-inch infotainment system that comes with Apple CarPlay and Android Auto. It also comes with cruise control as standard for the VL model. This then continues with the e-Power tech that it has under the hood. To briefly explain it, the Nissan Kicks is like a hybrid vehicle, it has an electric motor, battery pack, and an internal combustion engine. However, what sets it apart from the rest is that the electric motor is the only one that drives the vehicle forward. The job of the gasoline engine is to act as a generator to supply the battery pack with more power when needed thus powering the electric motor in return. The proper term for this is a series hybrid which differs from the more common parallel hybrids that you see in most of the hybrid vehicles available in the country today. This simply means that Kicks can't use its gasoline engine to move the wheels.
While it may seem like a bad thing, it's not because you gain all the perks of an electric vehicle thanks to the electric motors that can grant you nearly instantaneous torque without the downsides of having to deal with range anxiety thanks to the gasoline engine always being there to supply you with more electricity when needed.
It also helps that the Nissan Kicks also comes with an electric vehicle mode which completely shuts off the gasoline engine letting you run on the battery alone. It's a great way to save fuel while in traffic. Thanks to the regenerative braking you can add more charge to the battery even further extending the vehicle's electric-only range. It also has an e-pedal feature that lets you drive the vehicle with just the accelerator pedal. This simply means that it utilizes regenerative braking to help slow and stop the car giving you more charge in return.
If this is a taste of an electrified future, we like where it is headed. The e-Power system not only gives you the benefits of an electric vehicle but is a great piece of technology that will help ease users into a purely electric-only lifestyle. It's all the benefits without the downsides of EV tech that many have come to fear.
Safety
For its safety technology, the Nissan Kicks comes with a total of six airbags, ABS, vehicle dynamic control, parking sensors at the rear, and a reverse camera. As this is a top-of-the-line model, it does come with the Japanese automaker's Intelligent Mobility suite of features. This gives the Kicks access to features such as an intelligent around view monitor with moving object detection, intelligent forward collision warning, intelligent emergency braking, driver attention alert, and hill start assist.
It's a balanced set of features considering the affordable price point that Nissan has positioned the Kicks. The safety technology that it has is on par with the rest of its competitors with not much to complain about.
Driving and handling
Driving the Nissan Kicks is a unique experience. It feels like any other crossover to drive but once you enter electric vehicle mode everything changes. For instance, the e-pedal feature if you are coming from an automatic transmission is something you will need to get used to. It's like engine braking in a manual transmission vehicle but without the noise of high engine revolutions. It's capable of bringing the Kicks to a nearly complete stop, however, you still need to use the brakes to get the vehicle to a complete standstill.
The torque of the electric motors is something you need to get used to as well. If you bury the throttle, you will feel the power slowly build up linearly. However, once you reach peak torque it's like being on a rollercoaster as the feeling of acceleration is near constant without any feeling of it dropping off unlike in a traditional internal combustion engine vehicle. The best way to describe it is like you are always on boost in a turbocharged car. The pull is always there and is consistently there. This is in part due to the electric motor which helps rocket the car forward.
One thing to note is that when you are in electric mode the silence is something another thing to get used to. You will barely hear a thing in EV mode inside the cabin, only when you open the windows up or when you accelerate will you hear anything happen. However, in normal mode, the gasoline engine will come online now and then to make sure it's ready to supply power when needed.
Overall it's the best of both worlds when it comes to the Nissan Kicks. It's a sample of electrified mobility and the perks that come with it. It does take some time to get used to in terms of how to operate its EV mode but if you leave it in drive and let the computer do all the work you will be in for a fun experience.
Fuel economy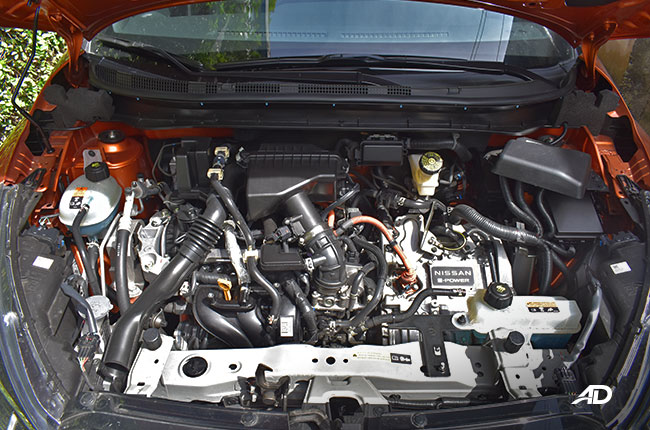 As previously mentioned the Nissan Kicks is primarily powered by an AC synchronous electric motor and lithium-ion battery pack. However, it does come with a 1.2-liter 3-cylinder gasoline engine that acts as its generator. The total system output for this hybrid unit is 134hp and 280 Nm of torque. As the crossover comes with an electric drivetrain there are no "gears" to speak of. There is only the automatic single-speed gear reduction transmission. While its battery pack is small compared to its other rivals it does grant you about five to seven kilometers worth of range on electric power only this translates to great savings when it comes to being stuck in traffic or on short trips.
In terms of fuel efficiency, the Nissan Kicks does well against other hybrid vehicles of its class. It can do 16.7km/L in the city and 22km/L on the highway. However, these highway figures were taken at 80km/h. The faster you travel the lower figures you will get. This is because at highway speeds the gasoline engine turns on to supply you the power needed to keep the electric motor spinning faster at your desired speed. In reality, you will get the same city fuel efficiency figures if you drive normally on the highway and much closer to the speed limit. You will need to hyper-mile it if you want to achieve higher fuel efficiency figures. This is where the other parallel hybrids have an edge against the Kicks as they are more efficient on the highway.
Verdict
This now brings us to the verdict for the Nissan Kicks VL e-Power. It is priced close to the P1.5 million mark which puts it in close contention with the other gasoline-powered crossover in its segment. Most notable is that it undercuts the Corolla cross which is priced around the P1.6 million range. It offers similar technology and similar fuel efficiency in the city. While its Toyota rival delivers better numbers on the highway, the Kicks still offers decent numbers that will put any other vehicle with a similar powerplant output to shame.
The Nissan Kicks offers you new-age technology that will take some time to adjust to and fully utilize. The e-power system is great for those looking for a fuel-efficient vehicle, but at the same time, it can be daunting for newer users who aren't familiar with it. For more traditional drivers the electrified crossover is fairly easy to get used to and can be driven like a normal internal combustion engine vehicle. The battery unit is sealed so going through floods won't be an issue. We tested this out as we went through several flooded streets without any issues from the Kicks.
Overall the Nissan Kicks is a game changer for its segment and the car industry in the Philippines. It offers you all the benefits that electric vehicles offer without having to worry about charging or range anxiety. It comes with just the right amount of tech and the e-power system does wonders to help you save on gas. As this is new technology it will take time for regular car drivers to get used to it but once they do they are in for a wonderful ride. The Kicks is perfect for those who want to have an electric vehicle in the future but are waiting for the infrastructure to further develop. It's the ideal "my first EV" that we are sure many will enjoy.
Exterior Photo Gallery
Interior Photo Gallery
---
Specifications
Performance
134 hp @ 0 rpm
---
Summary

| | |
| --- | --- |
| Name | Nissan Kicks VL e-Power AT |
| Body Type | Crossover |
| Price | ₱1,509,000 |
| Transmission Type | Automatic |

Engine

| | |
| --- | --- |
| Engine Size | 1.2 L |
| Displacement | 1,198 cc |
| Number of Cylinders | 3 |
| Number of Valves | 12 |
| Transmission Category | Automatic Single Speed Gear Reduction |

Performance

| | |
| --- | --- |
| Drivetrain | Front-Wheel Drive |
| Max Output (HP) | 134 hp @ 0 rpm |
| Max Torque (nm) | 280 Nm @ 0 rpm |
| Acceleration Rate | n/a |
| Top Speed | n/a |

Economy & Environment

| | |
| --- | --- |
| Fuel Type | Hybrid |
| CO2 Emission | n/a |
| Fuel Capacity | 41 L |
| Fuel Consumption | n/a |
| Range | n/a |

Dimensions

| | |
| --- | --- |
| Length | 4,300 mm |
| Width | 1,960 mm |
| Height | 1,615 mm |
| Wheelbase | 2,620 mm |
| Turning Circle | n/a |
| Ground Clearance | 180 mm |
| Wading Depth | n/a |
| Trunk Capacity | 470 L |
| Max Cargo | 835 L |
| Number of Doors | 5 |
| Number of Seats | 5 |

Safety & Security

| | |
| --- | --- |
| Driver's Airbag | |
| Front Passenger's Airbag | |
| Side Airbags | |
| Curtain Airbags | |
| Knee Airbag | |
| Auto Brake System | |
| Electronic Brake Distribution | |
| Anti-lock Brake System (ABS) | |
| Immobilizer | |
| Security Alarm | |
| Stability Control | |
| Electronic Door Locks | |
| Speed Sensing Door Locks | |
| ISOFIX | |
| Lane Departure Warning System | |
| Blind-Spot Detection System | |

Features

| | |
| --- | --- |
| Cruise Control | |
| Front Parking Sensors | |
| Rear Parking Sensors | |
| Leather Upholstery | |
| Push Start Button | |
| Wheel Size | 17 in |
| Wheels Metal Type | Alloy |
| Airconditioning System | Single Zone Automatic Type |
| Entertainment System | Nissan 8-inch advanced touchscreen display audio |
| Connectivity | Apple Carplay, Android Auto, Bluetooth, and USB |
| Navigation Ready | |
| Warranty | n/a |
| Keyless Entry | |
| Roof Rack | |
| Sunroof | |
| Electric Adjustable Seats | |
| Power Steering | |
| Power Windows | |
| Power Outlet | |
| Steering Wheel Audio Control | |

Technology

| | |
| --- | --- |
| Active Park Assist | |
| Hill Start Assist | |
| AWD Modes | n/a |
| Tire Pressure Monitoring | |
| Heads-up Display | |
| Power Liftgate | |
| Start-stop System | |
Get the best deal - Choose multiple dealerships to compare offers!
You can compare quotations simultaneously from multiple Nissan dealerships. Select your preferred dealers from the list below.

Compare quotations from multiple dealerships in minutes.
Check vehicle and color availability.
Find info on special offers and promotions.
100% Hassle-free with no obligation to purchase.
Latest Review
The Mazda CX-5 2.5 AWD Turbo is the newest variant in the model lineup, but does it have what it takes to impress? Find out with our review of the crossover.

4.4

/

5

The Changan CS55 Plus promises to be another game-changing crossover for the brand in the Philippines, but does it deliver?

The Kia Stonic Style Edition adds a unique body kit to the crossover giving it a sportier and slightly more SUV-like look, the question is, is it worth the additional cost?

3.8

/

5
View More Articles